Overview
Nagios XI is composed of several parts.  This document will give you and overview how these parts fit together, and then accompanying documents will give move details about the individual parts.
Parts of Nagios XI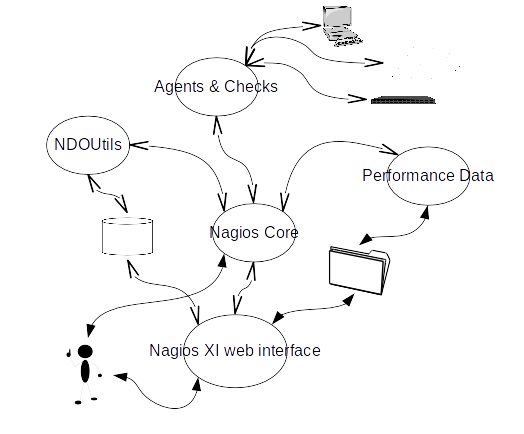 The major parts (and what they do)
Nagios XI web interface - manage the system
Nagios Core - the check engine and some core checks
NDOUtils - Data storage and export.
Performance Data - stores performance data for graphs
Agents and Checks - there are a multitude of agents/checks that are used to monitor and check things.
Additionally, because of the openness of Nagios there are many many things that can be added to Nagios to extend the system.  These could be to make the system easier to use, or easier administer, or change the display of data. Many of these are available on the Nagios Exhange (the Nagios Exchange has variety of agents, checks, addons, documents, and more related to Nagios products.)
Final Thoughts
For any support related questions please visit the Nagios Support Forums at: