Overview
This article will walk you through viewing diffs in a configuration snapshot in Core Configuration Manager (CCM).
Configuration snapshots are taken each time you Apply Configuration. In the event that you need to go back and view the differences between current or historical configuration snapshots, you can now view those diffs in the CCM. You can use this information to track changes in configuration files in your system or to troubleshoot the source of potential configuration issues.
Note: Each snapshot listed will display differences between itself and the prior snapshot.
Viewing Configuration Snapshot Diffs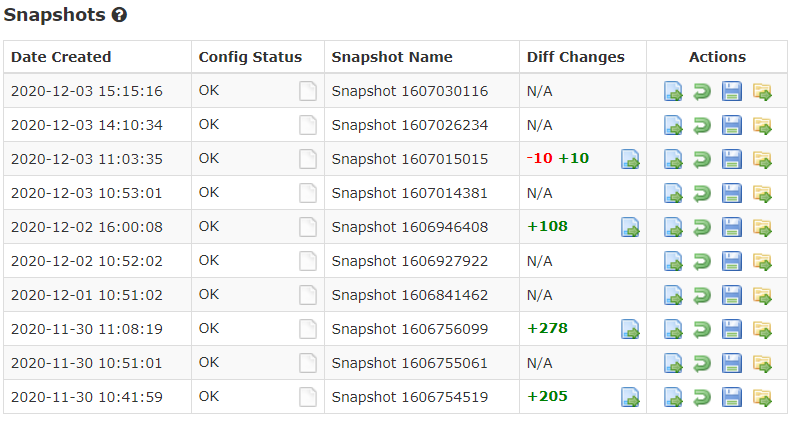 From the Configure menu click Core Configuration Manager.
Under Quick Tools click Configuration Snapshots. Here you will be shown the most recent configuration snapshots.
Snapshots that have differences to the previous snapshot will display the number of diffs and the View Diffs icon in the Diff Changes column.
Click on the View Diffs icon to compare the two snapshots.
On the resulting Config Changes page, you will see the - and + differences in the .cfg files as well as the corresponding line numbers. Note: Scroll down the page to view diffs in other .cfg files.
You can now use the knowledge obtained to make changes to configuration files or to further ascertain the origin and impacts of configuration changes made.